Guard dog training Centre
Dog Training for any purpose
June 29, 2023 – 08:36 am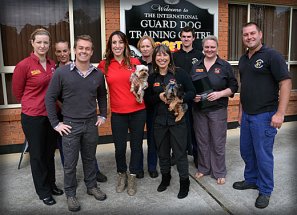 The Guard Dog Training Centre can train any dog for any purpose regardless of breed, size, age or shape.
ABSOLUTELY NO HARSH METHODS USED
We specialise in Obedience, Personal Protection, Attack and Man Stopper training. The first step with training is of course Obedience.
Obedience can be done with your dog from when they reach 4 months old (16 weeks) and we have even had dogs in at 10 years old to complete the course! Your dog will stay with us for a full 2 week period. Individual results will vary.
Does your dog jump up on people, bring your washing in off the line earlier than you would like, dig holes, and chase other dogs or the cat, how about cars or bikes? These are just some of the things owners ask us to try and work on over the course of the training. We can do off lead work with your dog, but the most important thing to remember with off lead work is that you MUST have full control of your dog when they are on the lead.
Our program* entails the following:
Sit - to sit nicely
Drop - into a laying down position
Stay - to stay in that position until called
Heel - to walk properly on your left hand side at your side instead of in front of you
Come (also known as Recall)
Learning 'NO'
Baiting - teaching the dog to eat from their bowl only
Upon collection of your dog at the end of the 2 weeks, our trainers will go through a lesson with you to not only demonstrate, but to teach you the correct way to control and correct your dog as needed. This usually takes 45 minutes to 1 hour. If, say in 6 weeks time you are still having some issues with your dog, you can come back and see the trainers for another lesson FREE OF CHARGE (any lessons after this will incur a rate of $150). Please note that individual results will vary. If the dog does not meet your requirements we will continue training the dog at Boarding Rates until we achieve your goals.
*This work is guaranteed - it is important that once your dog is home that you continue with their training from the direction the trainers give so that you can continue to improve with their obedience
Related posts: