leesburg dog training
Joyful Dog TTouch and Training
June 3, 2017 – 08:38 am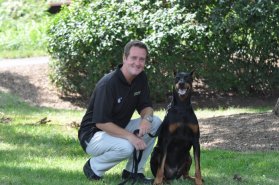 Joyful Dog works one-on-one and in group classes with people and their dogs, teaching fun ways to live together with force-free tools and techniques for creative communication. We provide training in basic manners, behavioral problem-solving, puppy socialization, and a variety of special interests.
Our positive approach includes Tellington TTouch Training® methods of body work and movement to help dogs achieve physical and behavioral balance, improving trust and communication between humans and dogs.
We offer Group Classes for puppies and dogs on Saturday morning at Seneca Hill Animal Hospital, Resort & Spa in Great Falls, Virginia, in Hamilton, Bluemont, and in your home. We are thrilled to be returning to for the 2017 "Great Country Fidos" training season. Our classes include Puppy Kindergarten, basic manners for adolescent and adult dogs, and a variety of specialty classes throughout the year.
Joyful Dog Tellington TTouch and Training serves Leesburg, Loudoun and western Fairfax counties in VA, and Montgomery County, MD.
Related posts: