Professionally trained dogs
Three Reasons To Professionally Train Your Dog
May 16, 2017 – 07:27 am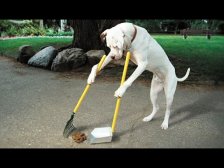 As dog owners, we all want to give our furry friends the love and attention they deserve. Unfortunately, when life gets busy with work, travel, and children, we may start to feel like we are neglecting our dogs. One way to ensure that your dog is happy, healthy, and well cared for is to hire a professional trainer. Whether you are unsure of how to train your dog, or if you simply do not have time, a professional dog trainer is a great option. The benefits of training your dog are endless, and when you let a professional take the reins, you can trust that your dog will be in good hands. The following are just a few reasons to train your dog professionally:
1) To Avoid Problem Behaviors
If your dog in untrained and acts out by barking excessively or tearing up shoes and furniture, you may start to feel yourself building resentment towards the dog. Having your dog trained by a professional will provide you with the tools and commands you need to build a strong and happy bond with your dog. A skilled trainer will be able to teach your dog basic manner skills that can be essential in preventing your dog from developing any anxiety or stress-related behaviors. When your dog is well trained and responsive to you as an owner, you will be able to create a trusting and loving relationship.
2) To Socialize Your Dog
Socialization is incredibly important for dogs. If you do not have time to take your dog to places where they can interact with other people and dogs, hiring a professional trainer may be the best choice for you. A trainer will be able to expose your dog to different environments and ensure that they are comfortable in new areas.
3) Less Work For You
A professional dog trainer can take a major burden off your shoulders. All dog owners want their pet to be well behaved, but many don't know exactly how to achieve this goal. With the help of an experienced trainer, you will be able to trust that your dog is on the road to becoming an obedient, respecting, and overall happy pup.
Related posts: