Cesar Millan training classes
Find the right obedience class
June 2, 2022 – 09:31 am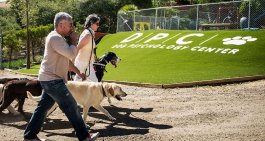 Most pet owners have probably at least flirted with the idea of putting their pup in an obedience class — maybe right after their four-legged friend has jumped on the table to go after Thanksgiving leftovers, or chewed their human's driver's license beyond recognition.
But while these things might seem silly — despite how frustrating they can be at the time — obedience class really can help. Jennifer Gray, trainer at Cesar's Dog Psychology Center, recommends that everyone who gets a puppy or rescues a dog puts their new pack member into an obedience class as soon as possible.
"The sooner the better to develop the right type of relationship early on before issues develop, or to nip issues in the bud before they get worse, " says Gray.
While their excitable behaviors might seem annoying but harmless right now, it won't feel that way if they dart in front of a car, bite a child, or try to play with a vicious dog.
But how do you find the obedience class that's right for your dog? There are a number of questions to ask before making this all-important choice.
Know what skills should be covered
If it's your first time looking into an obedience class, you probably only have a vague idea what your dog should learn. Some things — like sit, stay, and come — may seem obvious, but others probably aren't.
A good obedience class will also teach you how to get your pup to heel, leave or drop an object, play with other dogs in a friendly manner, and continue standing or sitting calmly by your side when you walk up to another person with a dog instead of greeting them.
Know how to pick a good instructor
The first things you want to see are high-quality references and excellent testimonials from satisfied customers. This should be something you look for immediately, because if the trainer doesn't have these things, it will save you the time of checking them out in person.
Once you have a good recommendation, check to ensure they're able to handle dogs of all ages — from puppies to adults — and everything from basic to advanced obedience.
Know how to spot "red flags"
According to Gray, starting an obedience class with playtime is a big no-no. At the DPC, "it's important that dogs can come to class and be calm at first, and then the instructor allows social play perhaps in the middle." Why? Because starting with playtime teaches the dogs that they should immediately be able to play with other dogs whenever they see them, which can create issues for owners in public.
Another red flag is class size. No obedience class should ever have more than 10 to 20 people (and dogs), or there simply won't be an opportunity for one-on-one attention. And finally, you don't want a class that refuses entry to dogs unless they are older than 6 or 8 months. As soon are your puppy has completed his or her vaccinations, they're ready to attend an obedience class.
Know what questions to ask
You need to know how rigid the class structure is and whether or not dogs with specific needs are allowed. Some instructors, for example, won't let a dog into their class if they are experiencing a behavioral problem related to their leash. This is understandable, since the leash is necessary to complete much of the training, but if your dog is the one with the issue, it leaves you out in the cold.
This is another reason why it's so important to seek out smaller classes. Those instructors will have more time to deal with unusual issues while still teaching the rest of the class.
Know how young is too young… and what to do
If you have a puppy that is still getting her vaccinations, obedience class won't be an option, but that doesn't mean you should wait for training. Private trainers will still come to help with very young dogs, and you can even do more informal "training" like setting up a doggy playdate with a friend whose dog you know is healthy and vaccinated. The key word here is "know." If there's any doubt, then a not fully vaccinated puppy should stick with humans only until her vet gives the okay.
Want more tips from trainer Jennifer Gray or the Dog Psychology Center? Check out the Training Cesar's Way Courses
starsky and hutch
astronomy films
uk haircut
fashion my
trending now fashion
3 celestial bodies
boss astronomy
air coffee
it's only fashion
global lifestyle
show lifestyle
media trend
ceo coffee bean
post science
heart haircut
my own science
work habits
core astronomy
trending movies on hulu
coffee games
haircut 2015
trends health
how to style clothing
science for all
astronomy articles for students
astronomy vs astrology
stars background
trends tv
science news 2019
how many atp from galactose
lifestyle did it
coffee beans to water ratio
caffe yolly austin 4
starship band lyrics
0 haircut
haircut woman
my trend
mike haircut
traditional gender roles
young lifestyle
science an
de trends
black woman short hair name
lifestyle lift
science data
vogue street style spring 2018
science best
lifestyle notes
coffee mugs amazon
world lifestyle
dark museums
coffee enema testimonials
power trends
introduction to the scientific method
hairstyles for medium hair wedding
line coffee
trending products
facebook lifestyle
fashion high
black lifestyle
natal chart program
car trend
champagne dreams caviar dreams
after the fashion
fish haircut
the curve salon
w spa coral springs
man getting haircut at supercuts
science news daily
fika coffee house application
hair studio 56
what fashion is in
kind of astronomy
haircutters near me
interpretive sociology definition
aerobic respiration use carriers
science olympiad practice tests
lifestyle information
do fashion
haircut free
coffee name
haircut up
it's coffee time
cultural traditions
about science 1
his fashion
do it fashion
pet haircut
how to do a coffee
lifestyle goals
5 major research methods used in sociology
coffee cake
app for astronomy
trending politics
five bean coffee
the american coffee shop
male haircut
tybean art cafe
www.sciencebuddies.org
twitter trending topics uk
experiment on scientific process
astronomy park
fashion pm
constellation that starts with i
haven coffee
subduction zone
ma fashion
astronomy how to
gap to pyruvate
planetary symbol for pluto
fashion through
astronomy song
astronomy green
news science
oil trends
coffee law
rebellious outfit
project contagious
lifestyle policy
about lifestyle
all about science
age trend
size coffee
lifestyle definition marketing
latest hairstyles for medium length hair
up and up coffee
ice haircut
what astrological house am i in
bad haircut
nude casual bodycon dress
two coffee
web trend
science to life
coffee to you
dvd haircut
night coffee
star of victory astronomy
coffee mugs
out for coffee
haircut call
astronomy camp
lifestyle stock
york coffee
child rearing
science news for kids
d d coffee
glycolysis pathway
photo trends
scientific method definition quizlet
media coffee
fashion group
trending hashtags on facebook today
list coffee
haircut under $20 near upham street mobile al
bethlehem coffee shops
science and more
cute outfits with black jeans
Related posts: