professional dog training services
Professional Dog Training Services
April 30, 2023 – 08:34 am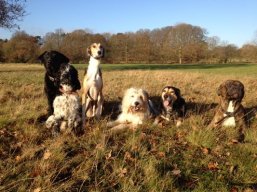 I've been training with Bryan for about a year and a half with my first sport dog JT. He earned his BH & we're working towards his IPO 1. Bryan has been patient with me as an inexperienced handler and had no problem with training an alternate breed for the sport (JT is an American Bulldog). After training with Bryan I've found that I really enjoy the obedience portion of the sport that I used to find tedious. I can't recommend Bryan enough, he's an extremely talented trainer with a no nonsense approach.
Bryan successfully trained my dog to focus on me regardless of what was happening around him, to obey me and to love what he was doing. I can't thank Bryan enough for his expert training of my doberman.
Let me first start by saying that if you are fortunate enough to have found Bryan then go no further for your Dogs training. Rarely do you find a person who takes as much pride in there work product as Bryan. This is demonstrated in the fact that he offers a lifetime grantee with your dog. I have been utilizing Bryan to work and develop my Euro line male Doberman. His approach is dog friendly and results driven for a amazing price. I have been fortunate to have my dog trained by Bryan a nationally recognized trainer whom people drive from all spots in the globe to have him train there dogs. Remeber not all dog trainers are the same and most of the time you get what yiu pay for. Call Bryan and you will have a dog your secure in knowing you have full comtrole with.
I have been training dogs with Bryan Hendricks for seven years. I have titled dogs in AKC obedience and dog sport training with his help!
Bryan is amazing with dogs! Bryan trained our Rhodesian Ridgeback to heal and listen off leash. We also purchased a German Shepherd from Bryan who we absolutely love. Moving forward we would only purchase German Shepherds from Bryan. He knew our family and our dog is a perfect for for us. You can see that Bryan knows and understands a dogs behavior and temperament. He is also always very responsive to my questions and available to work with the dogs if we have something in particular we we want reinforced.
I've worked with Bryan since he first began his business! I am a professional Dogwalker and I take dogs for extreme exercise in a park setting of 265 acres! In order to be sure these dogs come when I call them I use Bryan to train the dogs so the owners of these dogs hire bryan at my recommendation. Bryan has trained at least 20 of my dogs and therefore I've never had a problem with an unruly dog!! Some of the dogs were so crazy I couldn't even walk them on a leash now I never need a leash! What a difference! I love working with Bryan bc it's like he is a dog whisperer and the dogs truly listen intently for his next command!
Granitladen granite store
countertopscolumbia.com
.
Related posts: