Labrador dog training books PDF
Behavior and Training: Behavior
August 17, 2022 – 10:11 am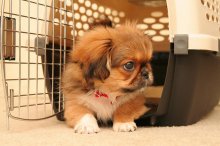 CHOOSING THE RIGHT PUPPY FOR THE RIGHT HOME!
Getting a dog or puppy on impulse is rarely a good idea. Remember that dogs, like cars, were designed for a particular function. You need to decide what you want, a Corvette or a Suburban, a Fox Terrier or a Newfoundland.
When the various breeds were originally developed, there was a greater emphasis on the ability to do a job, such as herding, guarding, hunting, drafting, etc., than appearance. If a particular breed interests you, find out first what the dog was bred to do. There are so many different breeds to choose from and if there is a secret to getting that "perfect puppy", it lies in doing your homework.
DECIDING WHAT KIND OF DOG TO GET
The well-trained dog begins with some idea of what role the dog is expected to play in your life and then selecting a dog that is suitable for the job. Following are some of the reasons for selecting a dog:
• Companionship;
• Playmate for the kids;
• Protection;
• A special activity, such as hunting, herding, breeding, showing in conformation, or competing in performance events;
• Status symbol (not wise); or
• A combination of the above.
Some dogs are able to fill all of these expectations, while others have more limited talents.
Getting a dog for a status symbol usually means one of the guarding or rarer breeds, and often these represent some special challenges. If you want a rare breed, first find out why it is such a rare breed and if there are any potential drawbacks.
Conversely, one of the most popular dogs and number 1 in American Kennel Club registrations is the Labrador Retriever. The reason is simple - it is a good multipurpose dog that can serve as a companion and playmate for the kids, is naturally protective, generally enjoys good health, makes a good guide dog, and with little time and effort can be transformed into a well trained dog.
You also need to take into account your own life style and circumstances. For most of us this means a dog that can satisfy our need for companionship, is easily trained and doesn't require a lot of upkeep.
KEEPING UP APPEARANCES
Everyone has his or her own preference and there is an enormous choice, from the four-pound Yorkshire Terrier to the 200-pound Mastiff. Many dogs come in different sizes, such as Poodles, or Schnauzers. Other have a smaller version that is similar in appearance, such as Collies and Shelties, or Dobermans and Miniature Pinschers, or German Shepherds and Corgis, or Greyhounds and Whippets, the "poor man's race horse".
Tidbits: Poodles and Terriers don't shed but have to be groomed regularly. Unless you are willing to spend the time and effort learning how to do it yourself, this means periodic visits to a professional groomer, an expensive proposition.
title 3 crowdfunding
bba degree
white label crowdfunding platform
aviation courses
communication skills course
entrepreneur work
computer class
new venture creation entrepreneurship for the 21st century
unicorn start up
get crowdfunding for startup
tfg crowdfunding
excel courses
global entrepreneurship
crowdfunding promotion
education degree
online computer courses
sdg un
seedrs fees
online psychology degree
wefunder fees
ben miller fundrise
elite crowdfunder
cpd courses
bser result
entrepreneurship development
ccd catholic
crowdfunding for education projects
business start up costs
oracle learning
microsoft courses
stanfords crowdfunding
courses after 12th
creativity innovation and entrepreneurship
up board result 2022
most successful crowdfunding
business and entrepreneurship
msc data science
teacher style box
new entrepreneurs
y combinator summer 2022
gem global entrepreneurship monitor
b tech computer science
prince 2 course
lularoe start up cost
futurelearn courses
Related posts: